If you don't need Apache, it is better to install only MySQL as described in the previous section.
But if you need also Apache, you can install Xampp from https://www.apachefriends.org or MAMP from https://www.mamp.info/.
And this instructions is for the XAMPP version which runs in virtual machine.
When you start the Xampp, you will see below control-panel

When you click Services, you will see below window, which you can use to start/stop applications.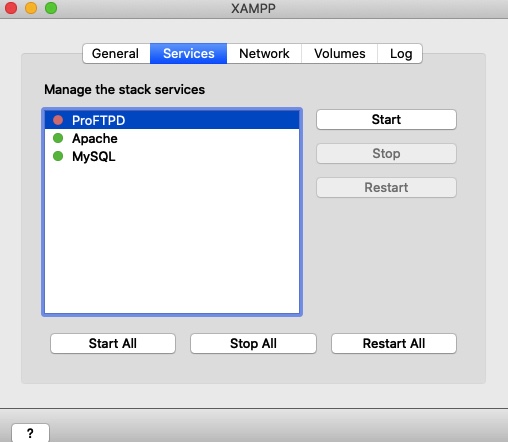 If you go back to mainwindow (click General), you can open the terminal by clicking "Open Terminal". And then you can connect to MyQL(MariaDB), by typing mysql -u root -p. In the beginning there is no password, so you can connect with the command mysql -u root and configure a password with the command SET PASSWORD=PASSWORD('test');
Connecting to MySQL: when you connect to your server, example from MySQL-Workbench, you have to use the ip-address of the virtual machine, which you can see on the main window, . (So, you can not use localhost).
Web-folder in Mac-Xampp the web-folder is htdocs, but you have to first Mount the folder from the control-panel, so click Volumes->Mountand then Explore. And you can reach it from the commandline inside your home folder and then .bitnami/stackman/machines/xampp/volumes/root/.

You will be able to open the folder in Terminal easily, if you first make this:
Head into System Preferences and select Keyboard > Shortcuts > Services. Find "New Terminal at Folder" in the settings and click the box.
Then when you click any folder with two finger there should be option "New Terminal at Folder"